How many of you use Google Chrome or Chromium and have more than 10 active feeds in Google Reader?  I'm sure that most of you raised your hand…well, maybe not physically but a mental raising of the hand I suppose.  How about 20+ feeds?  30+?  Is your (virtual) hand still up?  Mine is.
I'm plugged in…maybe too plugged in.  The "mark all items read" button received much use in my RSS reader.  I found myself skipping more than I actually read.  Google reader is awesome, don't get me wrong, but it is a bit simplistic and plain…which is fine, it does its job well.  I'm informed.  But I often times find myself trying to sift through the cruft that is my various feeds.  I have wordpress design feeds, freelance feeds, Linux feeds, sports feeds, business feeds, inspirational feeds, youtube feeds, feeds about feeds, and feeds feeding those feeds.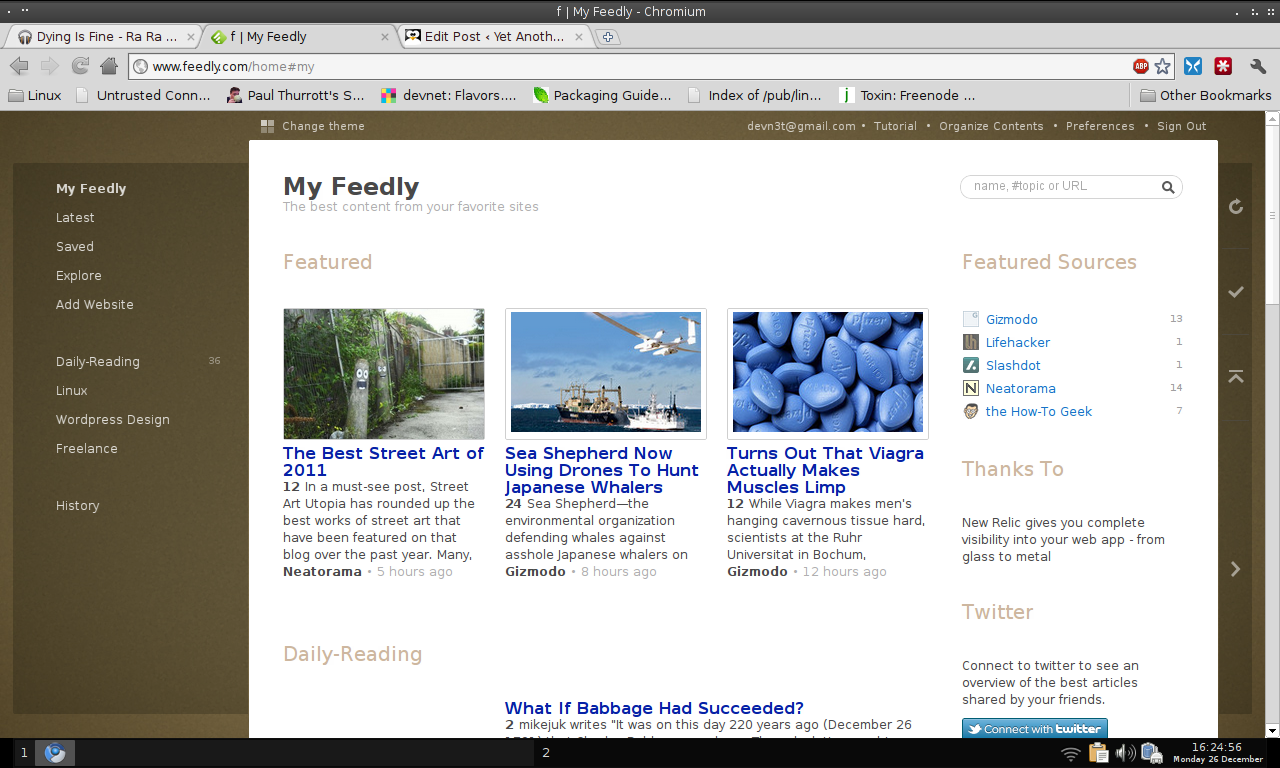 I wanted to get more from my news/RSS.  Enter Feedly.  Feedly is a way that my feeds become VISUAL.  Instead of line by line by line, I'm given tiles and mosaic patchworks in an easy to read format.  I have variety.  I have images.  I have screenshots.  I have thumbnails.  I can see my feeds.  I can see what they're describing.  I can see what people are blogging about.  I started using Feedly a mere 4 days ago and I have completely caught up on my reading.  Before I started I had over 3000 articles and was many, many days behind on my reading.  I'm completely caught up now with a manageable 200  articles to read.
Does this mean I'm reading thousands of articles with Feedly?  Not by a long shot.  But I'm finding what is important to me faster and thus being much more efficient.  I'm still skipping many articles…but at least now I know WHAT I'm skipping.  I'm not just marking all read so that I can catch up.  Feedly allows me to peruse my feeds in almost a catalog fashion which speeds up my reading times and focuses my attention on the things that catch my eye.
Feedly is free by the way.  I use it with Chromium/Chrom (works with any web browser though, just head over to their website) and you can too.  Install it as a web application in the Chrome web store.  Once installed, synchronize it with your Google Reader account…things you mark as read in Feedly will be marked read in your Google Reader account and vice versa.  I also use it on my Android tablet.  Make sure to check out the settings page in Feedly to configure the right layout and colors for yourself to make things easier to read and fit your workflow.  I guarantee you will find yourself reading more interesting articles…bookmarking links more…and paying attention to what matters to you.