It's that time my friends.  Time for us all to shuffle ourselves off of Google Reader.  I'm very sad because I've used it every single day since it was offered to Google users.  It replaced BlogBridge, my favorite RSS client due to its lightweight server side always-available-on-every-platform appeal.  But it's shutting down within the next few weeks.  These are sad times my friends.
We've all seen the discussions on sites like Lifehacker, PCWorld, and TechCrunch all claiming that there are multiple replacements and/or alternatives.  I've cycled through the gamut of them and found two relatively unknown gems I'd like to share with you.  I've used both of these for a couple of days and I can honestly say…depending on your focus when using a reader, they're quite nice and can replace Google Reader completely for you…and chances are you haven't heard of them.
Let me start by saying if you're a fan of magazine style flipboard readers, nothing beats Feedly.  However, I don't really think Feedly fits exactly with what Google Reader did.  So while I don't mind using it for say, things to post on Pinterest…it's not exactly what I need to get through tons of news quickly.  I find the magazine style pictures distracting when I attempt to make it through hundreds of feeds daily with a focus on news reading.  If you're not like me, Feedly will work fine for you.  If you are like me, read on and I'll show you 2 fantastic Reader replacements that you probably haven't heard of.
InoReader, the Best I've Found
Let's start with the best reader I've found to replace Google Reader…InoReader.  InoReader is a free online reader that allows unlimited feeds with a nice, minimalist UI.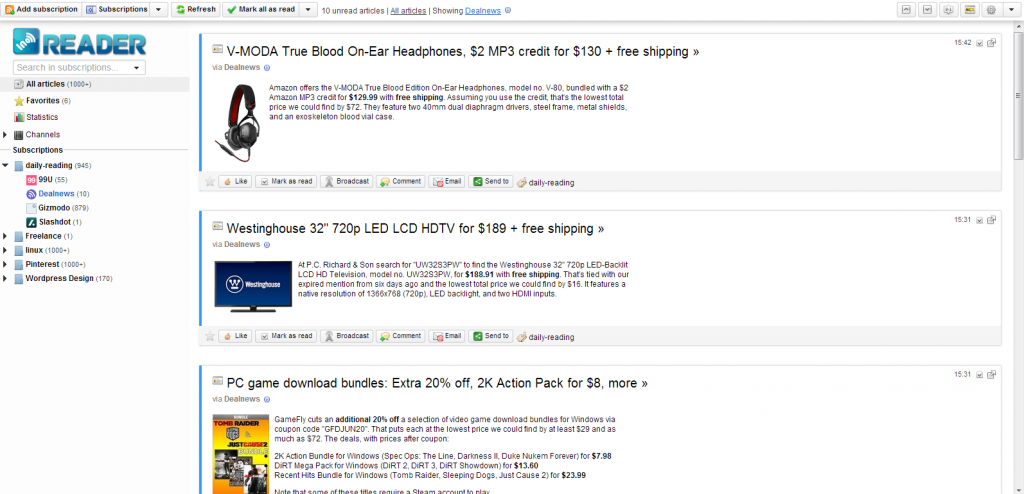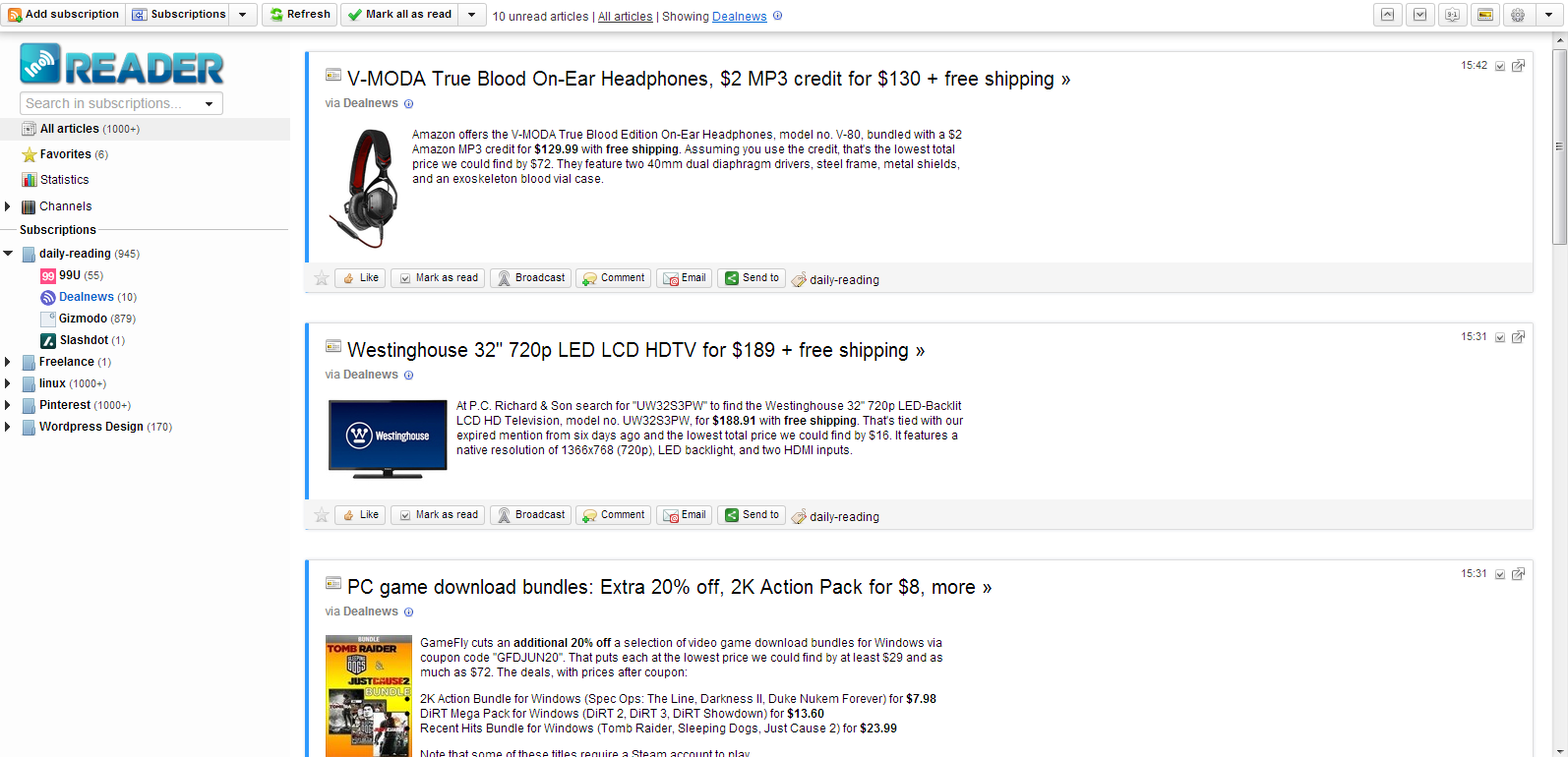 I can't find anything wrong with the look and feel…it's very comforting since it is very Google Reader-like.  There are some amazing options available…for instance, if you care little for social networks, you can disable anything social from appearing in your feeds: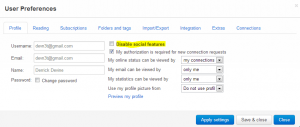 Other options you might be interested in is the ability to eliminate double posts.  This means that if you have a couple of feeds that feature redundant posts, this will eliminate one of them.  Handy if you read tons every single day: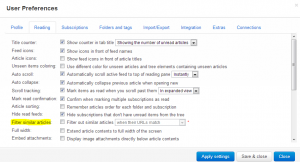 I've found the speed of displaying feeds to be fantastic…it's every bit as fast as Google Reader was.  I've also found keyboard shortcuts to be functional and fast.  There are 2 feed layouts available and that is full articles (expanded view) and lined articles (list view).  This is perfect for someone with as many feeds as I have.
Do you want statistics?  InoReader has them.  It's very comparable to Google Readers Trend section.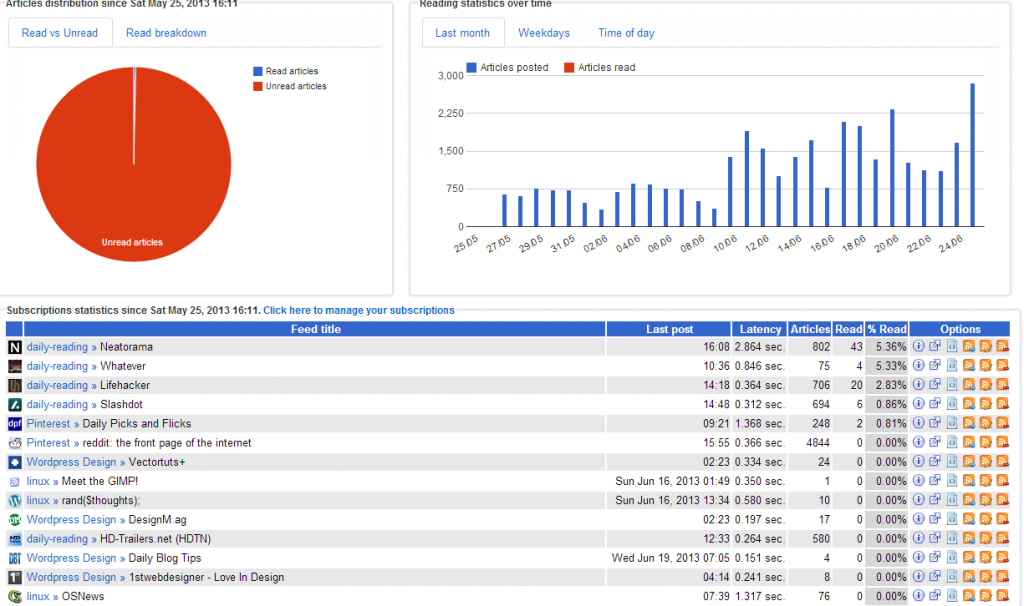 All in all, I've found InoReader to be EXACTLY what I need in a Google Reader replacement.  I'm sure some people will find small, niggling things that stick out for them…but for me, it does everything I need it to.  I was able to import my Google Reader subscription file from Google Takeout in a matter of seconds…this in itself is head and shoulders above another reader I tried called "The Old Reader" which took 2 weeks to import my feeds.
InoReader also has a mobile version of its website that autosyncs with my feeds in the browser which is nice when I'm using my tablet or phone.  While there is no Android application as of the writing of this article, the mobile site is quite nice and simple and allows me to do everything I need to do and looks very similar to Google Reader's mobile site.  There is a Chrome App also available in the Chrome Web Store.  Add things in like ability to search through your feeds, multilanguage support, as well as Pocket and Instapaper integration and you'll understand why I think that this is the best Google Reader replacement available.
Final Verdict? It's going to be sticking as my reader for a very long time.
Pros:  Fast, simple, good mobile experience, Android App due for release in July, Standalone login or Google authentication, uses own engine to drive feeds, sound alerts, desktop notifications, ability to change skins/themes.
Cons:  No tags yet (planned for later), Reordering of feeds not yet available (also planned), a few other small things detailed here.
Homepage:  http://inoreader.com
Red Tree Reader – Beauty in Simplicity
Maybe InoReader has too much going on for you.  If that's the case, you'll love the minimalist approach of Red Tree Reader.  Please be aware that Red Tree Reader is DEAD simple…as in, there are absolutely NO distractions or features that get in the way of your feeds.  The news is front and center.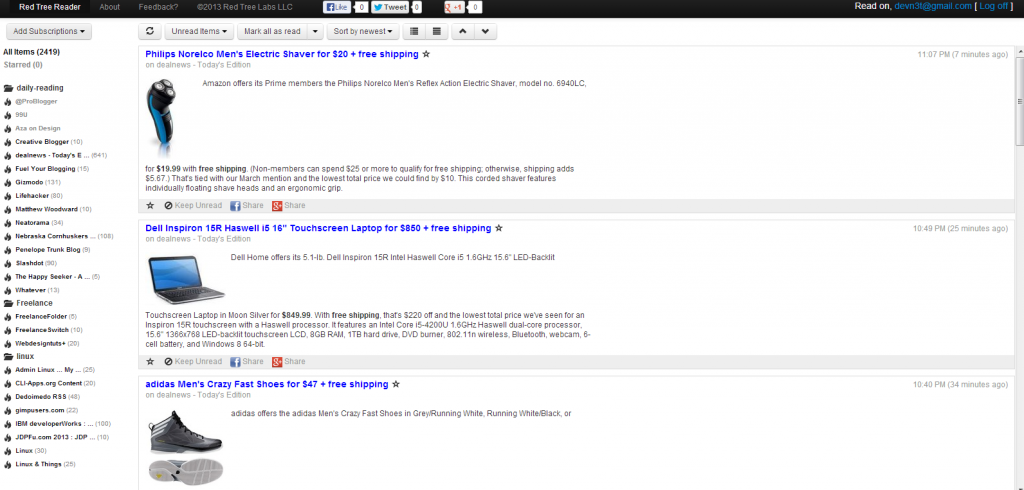 With both whole article view (expanded) and a compact view (list) you can cycle through news quite quickly.  Red Tree Reader supports the same keyboard shortcuts you've come to know and love in Google Reader.  It's creators GUARANTEE it is bug free…and you can read more about this nice minimal reader here.
If you're looking for a reader that matches Google Reader but doesn't attempt to plug into every social network on the planet while implementing whiz bang bells and whistles that you'll never use or want to use, Red Tree Reader is for you.  I tried the mobile site in my phones browser and found it functional but all together NOT ideal.  If mobile RSS is your thing, give it a go and see what you think…I think this would work better on a tablet than on a phone.
My final verdict on this reader is that it will find a home with those of us who hate fluff and think content is king.
Pros:  Lightweight, fast, support for keyboard shortcuts, minimalistic, imports feeds quickly and imports google feeds in seconds, quick feed displays
Cons: Not for social network people, very plain and thus not for people who want anything flashy, can't reorder feeds, no feed icons, mobile site isn't the best feed experience at all but works.
Homepage:  http://redtreereader.com
Summary
These 2 RSS readers have a lot going for them and I haven't seen any of the big tech news websites say anything about them.  This is really a shame because they're two of the best ones I've found over the past few months since I started looking.  I hope this post helps you make a decision in your quest to replace Google Reader.  If you have further questions about these readers, I'll do my best to answer them in the comments.  Thanks for reading!