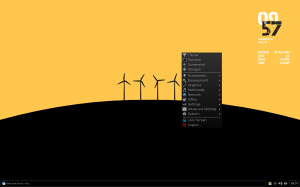 I've been running Manjaro Linux Openbox Edition since about November of 2013.  I haven't re-installed…since Manjaro rolls with it's releases…I haven't needed to re-install.  It's been as steady as a rock for 2 releases and many months of torture and pain from yours truly.
The only other distribution I've ever put through its paces like this that remained stable and usable was Salix…which is Slackware based.  Manjaro is Arch based and benefits greatly from the fantastic package manager 'pacman'.  Oddly enough, Salix has a lot in common with Manjaro in that they both attempt to bring simplicity with easy upgrades/updates.  They also both tap into the community for customized packages…Salix with the ability to install Slack builds and Manjaro with the ability to add on packages from the AUR (Arch User Repository).  Both provide tools that allow a user to interface with these user built repositories.  Both are lightning fast and use a very low amount of resources.
Even though I'd hadn't noticed before….they do have a lot in common.
I've demanded a lot more from my Linux distributions lately…I haven't picked the ones I use based on what everyone else is using.  I haven't picked one that has recently released.  I picked one that doesn't decide what's best for you.  I think this approach is best…doing less is more.
I don't want a distribution to install the entire KDE application suite out of the gate taking up tons of space on my hard drive and making my Kmenu a jumbled mess.  I don't want a distribution that doesn't install tons of applications but is so bloated and lethargic on the desktop that I can barely function.  I don't want a distribution that does things the wrong way by requiring me to install more than what I need (thanks meta packages!).  The bottom line is, I want a simple distribution of Linux that truly and wholly supports the 'less is more' mantra.  The only two I've settled on are Manjaro and Salix.  I'm not saying these are the only ones that ascribe to this mantra…I'm just saying these are the only two I've used that I like.  I'm sure there are others you might have found do the same thing and I'd encourage you to leave a comment with this distribution so that I can check it out.
I don't do a lot of Linux reviews…but I will be doing a Salix and Manjaro one in the near future.  I think they both deserve any amount of press they get because they are fantastically simple distributions.