Radio Tray is a very simple application that plays your favourite radio stations and it does so from the system tray, meaning any station you want to listen to is only two clicks away. Naturally you'll need to add your favorite streams to this program before it will actually be useful. Most websites offering streaming will give you access to a ".pls" file. Copy the link to this file and you can add it to Radio Tray. It supports most media formats as well as PLS, M3U, ASX, WAX and WVX playlist format. You can even bookmark the stations you really like for easy access, which is pretty nice too. To install Radio Tray in Ubuntu Linux, launch Ubuntu Software Center from Applications menu (at the top) and search for "Radio Tray". From the results, select "Install" and you are all set to use this amazing piece of software.
Radio Tray can be launched from "Sound & Video" menu under "Applications". It will appear in the system tray area. This is the beauty of this software that as it runs in system tray so it does not consumes much system resources as it does not require any browser window or any other heavy application to function. Radio Tray will launch in system tray and will not automatically play any station. To play the radio station, click on the Radio Tray (tray) icon and select the station from drop down list (you may require extra plugins for proper functioning of the application e.g gstream libraries).

Perhaps the pre-configured radio stations may not interest you. You can not only add your favourite channels but even Remove or Edit any existing channel. To Add/Remove channel(s) in Radio Tray, Right Click on the tray icon and Select "Configure radios…". A dialogue box will appear. Here you can Add new channels, Remove or Edit existing channels and Move the Channels UP or Down in the list. Lets, now add a radio station to Radio Tray. Go to: http://www.shoutcast.com/ and search for some radio station (say, rock). From the results, just copy the link of any radio station. Now come back to "Configure Radios" and Click on "Add" Button. In the "Radio name" box enter any friendly name (say Soft Rock) of the radio station while in the "URL" paste the link of the radio station.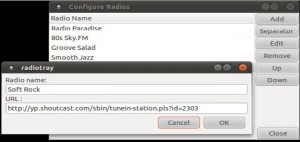 Your new radio station is now added into the channel lists of Radio Tray and you can listen to it just by selecting it from the drop down list of Radio Tray.
If your favorite station doesn't have a standard M3U or PLS playlist posted on their web site, you can always find the stream's URL by other means. Radio Tray isn't incredibly feature-filled, but on those occasions you just need a simple unitasker, it's perfect for getting the job done and staying out of your way. Its a perfect substitute for proprietary radio softwares and not only available in .deb format but also in source format.