Let's bust some myths today because a majority of KDE 4 haters out there have the same reasons for hating it.  I'm pretty sick of seeing posts and news articles about "why I don't like KDE 4" and then seeing that the real reason the person is upset is because they don't spend an extra few moments trying to figure things out…aka lazy and ignorant.
KDE 4 was NOT feature complete when it came out in the 4.0 version.  It IS feature complete (in my opinion) with the 4.2 and 4.3 versions.
Ignorant Reason #1 – I hate Dolphin and I Can't Have Konqueror Anymore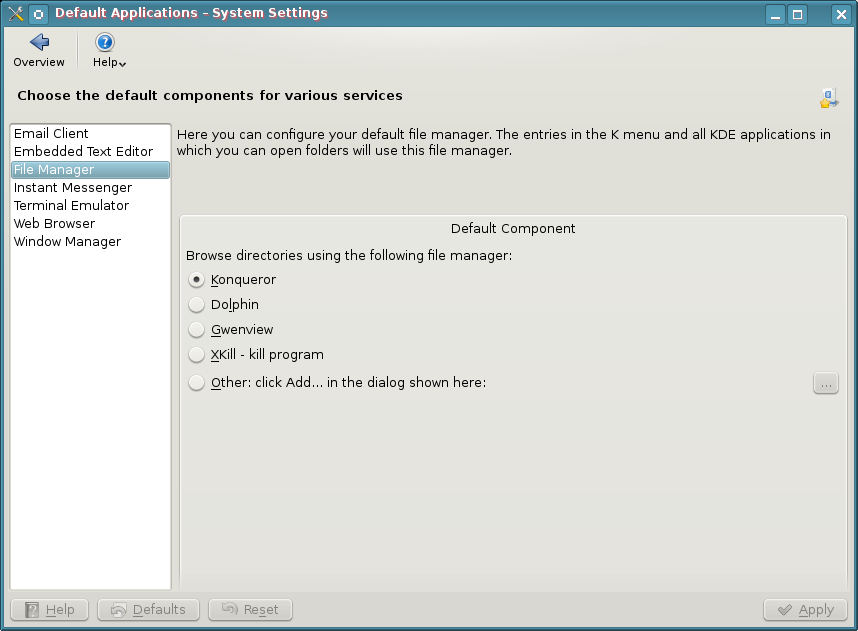 Wrong, you can use Konqueror.  You don't have to use Dolphin, but you'll be missing out on a lot of useful stuff.  Tell you what, now that you know that you don't have to use Dolphin, why not use KDE 4 and give Dolphin a try every so often…you can still use Konqueror in the meantime and now that you know you can, you don't have to go around trumpeting that you can't to everyone who will listen and saying what a piece of crap it is.  Forget that you'll lose nepomuk and the semantic desktop by dismissing dolphin.  Don't know what that is?  Let me google that for you…
I sure hope this solves many peoples beef with KDE 4 right out of the gate because this is one of the reasons I find all over the web.  I really think the problem is the lethargic attitude that prevails from die hard KDE 3 fans.  Honestly guys, give Dolphin a try…it's really a pretty decent file manager and is light years ahead of any other DE file manager.
Ignorant Reason #2 – I Can't Have Folders or Files on the Desktop Anymore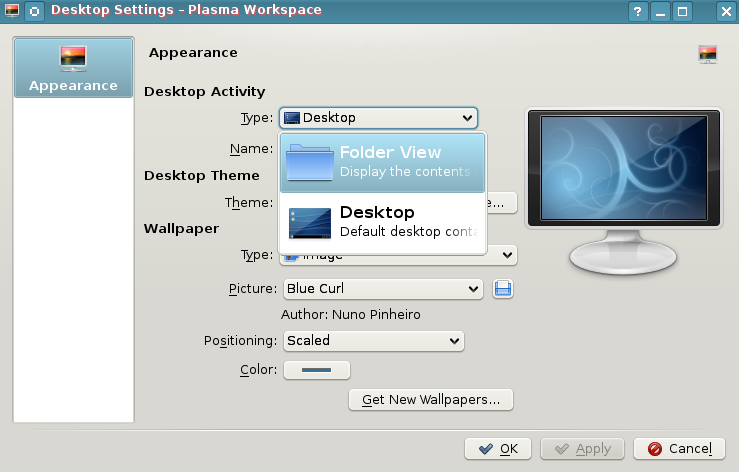 Wrong.  Right click on the desktop and choose "Desktop Settings".  Select the drop down menu "Type" and select "Folder View".  Your desktop now has folders, icons, and all other such things that you may want to clutter it with.
If you want to switch back to NOT using the folders and instead use widgets…right click on the desktop and choose "Folder View Settings" >> Select Type >> Desktop.
To top it off, if you select "Folder View", the folders and icons act exactly like you would expect them to in KDE 3.  Not only can you select to show your desktop folders…but you can even show a folder like /home as your default desktop…show any folder you have access to, it's up to you.  Yay right?  I give it a golf clap.  Let's continue thinking out of the box and bust a few more myths.
Ignorant Reason #3 – I Can't Move My Panel to the Top, Right, or Left.

Wrong.  Click the settings icon on the right hand side of your panel (it looks like a comma on the far right side of the panel).  The settings area pops open.  On that bar is something called "Screen Edge".  Now, it seems pretty self explanatory that when you hover over the top of it, it gives you the 4 arrow icon that means you can drag and drop the panel wherever you want to…and being named "screen edge" seems to imply "which screen edge…left, right, bottom, or top…do I want this thing to appear on".  Then again, I can see how screen edge can confuse people when you open the settings of a panel that resides on the screen edge.  Ok, maybe I can't.  Well, at least you know you can move your panel around right?  Golf clap again?  Who plays golf anyway?
Ignorant Reason #4 – I Can't Resize Folders and Files in Dolphin
Wrong again.  Are you sensing a pattern yet?  Open Dolphin, go to the directory where you want to increase the folder size.  Hold the control key down…now roll your mouse wheel and be amazed as the folder size increases.  Invest all your money in Yet Another Linux Blog stock and move to Nicaragua.  Golf clap on your way to expedia.com for purchasing tickets.
Ignorant Reason #5 – I Like to Use My Own Color Schemes…I Can't Do That in KDE4.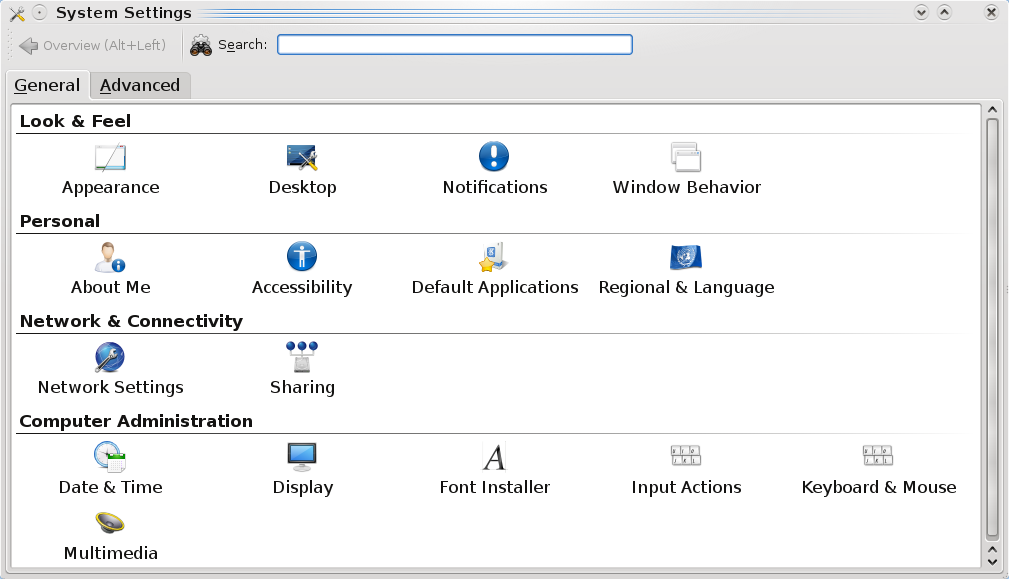 KDE4 absolutely allows you to create your own color schemes.  It really helps to look around inside the system settings tool.  Go to your Kmenu >> System >> System Settings.  Once there, look for Appearance.  You can also use the top search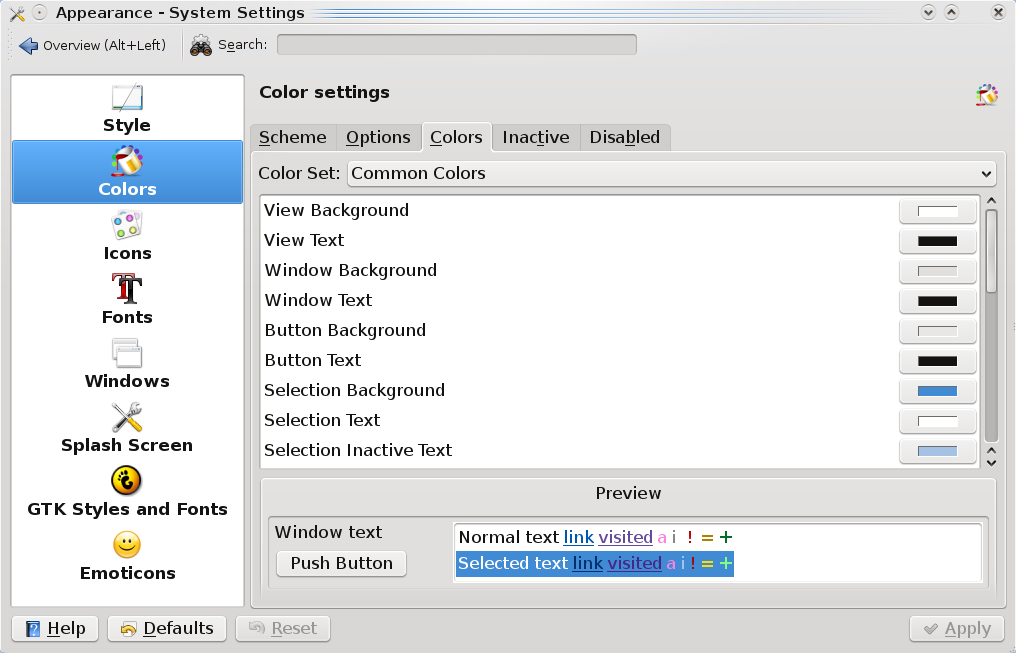 bar to look for any term…so if you were to type "color" there, you'd see that Appearance & Display are returned.
Click on Appearance and you're taken into a wonderful world of color and granular control of said color.  Change anything you'd like….go crazy.  I hear pink is the new green…or is it green that was the new pink?  Whatever.  The only limits are your imagination.  For those without imagination.
Ignorant Reason #6 – The Default Menu is Cludgy and Different and I Can't Find Anything in KDE4
Now there is no right or wrong here…you could be right depending on who you talk to.  However, the nice part about KDE4 is that they include the previous menu for you.  Right click the Kmenu and choose "Switch to Classic Menu Style".  Now your menu is the exact same as it would be in KDE 3.5.10.  Please remember that answers are out there…you just have to search for them.
Closing the Door on Myths
Hopefully, this closes the door on many misconceptions helps people who are ignorant to the leaps and bounds that KDE4 has made just in the past few months.  I've grown very tired of journalists and bloggers taking swipes at KDE4 and spreading misinformation about it.  If you have any questions about how to do something in KDE4, please leave a comment below and let's work together in finding a solution.