I was running Unity Linux 2010.2 with KDE 4.5 for around the last month.  I really like what has been done there but it seemed a bit heavy for my Gateway M250…the CPU fan was always on which told me it was always in high use.
I checked out Gnome 2.30 on Unity and found it to be delightful on my resources; however, Gnome doesn't make me feel warm and tingly when I use it.  I find myself frustrated with its lack of configuration options…specifically, right click menu.  So I rolled my own using the base install of Unity.  That worked quite nicely but lacked much of the polish I became accustomed to when using KDE.  What I wanted and needed was a happy medium.   I found that happy place with TinyMe Linux.
TinyMe is based on Unity Linux 2010 and was previously based on PCLinuxOS.  It uses LXPanel, PCManFM and the Openbox Window Manager to handle the heavy desktop lifting.  The ISO I used was a release candidate and lacked much of the polish of the TinyMe stable release of the past.  Even though it's a release candidate, I still found it quite stable and usable…especially since I know my way around the openbox window manager.
You can snag the TinyMe release candidate here:  http://distro.ibiblio.org/pub/linux/distributions/tinyme/
After a few adjustments of adding my favorite programs I was in business.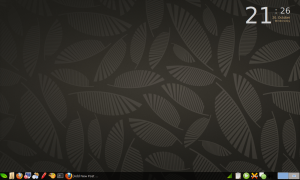 Even without some of the programs that made TinyMe famous (like the TinyCC) this distro is both stable and robust which is a testament to the underlying Unity Linux core.  If this release candidate is any indication, look for GREAT things to come from TinyMe 2010's full release…something I will be looking forward to!